The following gives a brief insight into the meaning and use of some often seen funeral flowers.
Chrysanthemums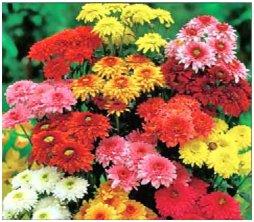 Chrysanthemums are traditional funeral flowers in many countries of the world with white Chrysanthemums signifying truth and honesty. They are available in a number of colours; white, yellow, burgundy, tan and pink as well as the more unusual green button chrysanths which provide a perfect foil for other stronger colours. The double variety are used as basing material for massed wreaths, posies and name tributes, white being the most usual colour. Pink and yellow are also used as a base flower.
Single Chrysanthemums are daisy-like and give a freshness to a funeral tribute.
White Chrysanthemums can be sprayed any colour where a design tribute is required such as football shirts or crests or military badges. The colour can not be totally dense when sprayed or the flower becomes "waterlogged".
Where a red base is required carnations are used, there are no true red chrysanthemums.
Carnations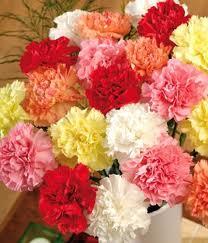 Another traditional funeral flower - red carnations are used as basing material on massed tributes where a red base is required. They also look stunning in other colours as a base given a wonderful textured finished, but they cost more than Chrysanthemums so are not used so often.
Carnations are long lasting which also adds to their popularity.
White carnations are meant to signify truth and red carnations passion or strength of feeling.
Roses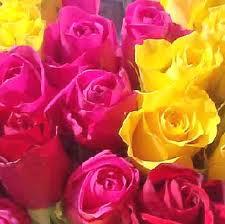 As a funeral flower, there is nothing to surpass the beauty of a rose. The visual impact of a full length rose coffin spray with foliage trailing elegantly is simply stunning. Red roses are the most traditional flower used, but white has great visual impact as does yellow or pink.
Red Roses signify passion or strength of feeling, yellow rose stand for love. White roses traditionally reflect innocence.
Irises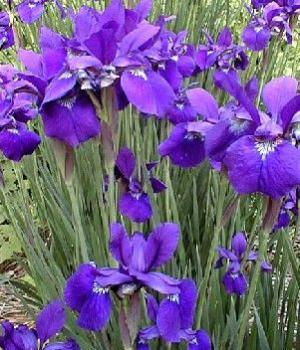 One of the few blue flowers available all year round the iris has its deserved place as a funeral flower. In the world of flowers they signify faithfulness and hope, contrasted with white they have great visual impact.
Lilies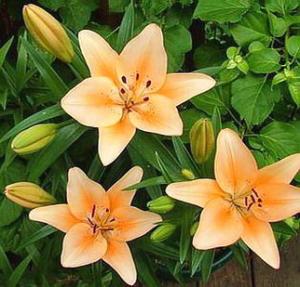 There are several types of lily and the colours available are white, orange (salmon) yellow and pink.
Longiflorum lilies, where the flower head forms a trumpet - these are white only. They are a very traditional, funeral flower and look best in a tied sheath because of the way they grow on the stem.
Asiatic lilies which are smaller flower heads and are used in sprays on based or massed tributes or where a smaller flower head is required. -
Oriental lilies, open out fully with petals turning back. The size of the flowerhead can vary, but these have a very strong presence within a funeral tribute.
Lilies will open out when they are ready, and not before, they can not be predicted and are often the florist's headache to have them ready at the right time. Lily based tributes are best ordered well in advance to ensure the flowers give their best visual impact.
The florist will remove the lily pollen from the flowers before delivering, this is to avoid the pollen staining the flower, or clothes, given that the tribute will need to be handled and moved several times.
Calla Lilies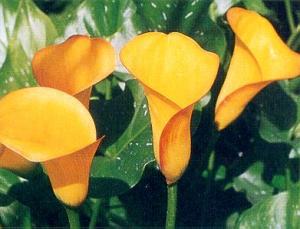 The trumpet shaped lily which is actually related to the anthurium or artist's palette. Calla lilies can cost a lot of money, depending on the size of the flower, they do provide some stunning colours and give great visual impact with a small number of flowers.
Exotic Funeral Flowers
People's tastes are different, and if you wish to express your feeling with a tribute that is out of the ordinary then we suggest you consider the visual impact of pistachio green anthuriums with deep red roses, a based heart made up of gypsophila, cluster wreaths with seasonal flowers. Strelitzia (bird of paradise), sunflowers, orchids can all be used, but check with us for prices as there can be significant seasonal variation and availability.
"Blue" Flowers
People often wish to match flowers to their loved one's favourite colours. Most colours can be accommodated but true blue flowers are not so easy, and they border mostly on the purple side of the colour spectrum. Blue delphiniums and hydrangea can be seasonal, but certainly cost significantly more than the humble Iris. Dyed blue roses can be provided but again at a cost. Check with us what is available, we are happy to guide you in your choice.